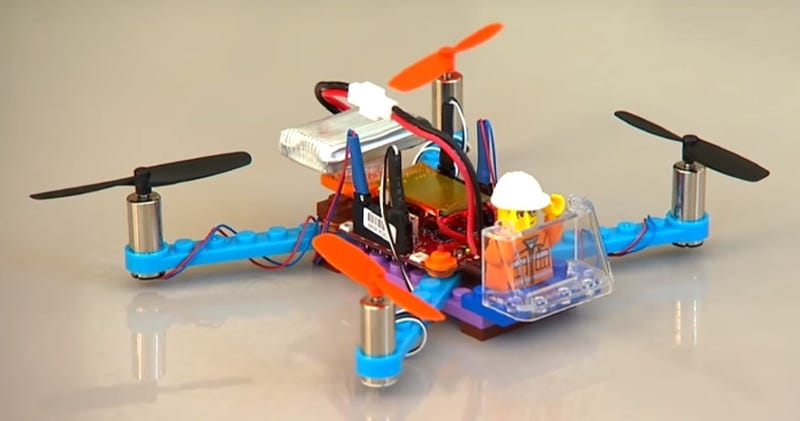 This is a new hot topic of tech toys – the Lego Drone. As far as Lego is very popular, and drones are extremely popular, why not put these two toys together and get the perfect decision for tech toy lovers?
Flybrix Startup has suggested a new interesting idea to sell Lego pieces which could be very easily transformed into drones. Such kits won't be very cheap – the minimal price starts as $150 – but the most significant and different from drones function (that makes it really amazing) is that those Lego drones allow children customize and reconfigure them unlike ordinary drone do. On top of that, Lego drones can survive more crashes! The only option that – alas! – Lego drones lack (we hope, it is only for now) – it is camera to follow the flight. Anyway, it doesn't lessen the pleasure to play with this RC toy.
Brian Blau, the Gartner analyst, whose function is to study technologies for consumers, is really happy with the Lego drone idea. "This is very good for kids, and frankly speaking I would like to have such drone myself".
The firms that deal with industry researchers expect a double increase of drones purchase by 2020. It's not quite clear in what way people are going to use their drones, but the fact that this RC toy attracted attention of millions of consumers is very clear.
The kits of Flybrix come in 40 parts, together with Lego pieces for airframes of drones to be built. Also, there are 8 rotors to get the drone off the ground, a supplying power battery, and a plug-in board in order to control the craft. Blocks for building are the same that you can see in Lego kits, but through the custom design they were made to look like Lego arms which function as rotor holders.
The purpose of creating such Lego drones is not only getting cash through sales in the growing market; they aimed to expand the makers' number and increase education level of STEM (science, technologies, engineering, and math).
From the moment of taking kits into hands and to the start of flying it will take you about 15 minutes. Drones can be controlled with your Android or Apple applications. Another variant is to pay additional $40 and buy a deluxe kit that includes RC joystick which resembles those in ordinary RC toys.
The number of parts is perfectly enough to build a drone with up to eight rotors! It can fly for about 7 minutes with a single charge. It will take you for about 30 minutes to recharge the battery, and then start flying again.