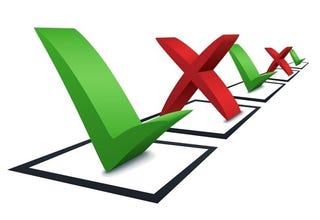 When we start our business we make a lot of trials and errors. Nobody's perfect, you know, and through the time when we get our experience, we start to realize that much of mistakes could be avoided. For this very reason we have written a series of articles (you may have read already Go Back and Start Again or Review Old Mistakes with Up-to-Date Mind).
In view of this let's reconsider three general possible mistakes and ways of avoiding them.
Mistake 1.
You are in a hurry for your big move. And this is not right. Firstly, being in a hurry in business is not right, and secondly, you must understand that it demands much cash to make a big move. Even if you are very creative and growing, in one or two years you will understand that it is impossible to reach next level by bootstrapping. A year or two is a great deal of uncorrectable loss of time. Despite your optimism there is no funds infusion. You don't want to close a profitable business, but at the same time you see that your interests start to stray. So the advice from Kate McKeon, the President of Prepwise is: "A partnership of strategic capital is what you need. Of course, that means some extra burden for you and your business, but it's the right thing in such situation to help you manage it."
Mistake 2.
Joe Palko, CMO of 3dcart Shopping Cart Software tells his story. "Originally, I and my co-founders started Solid Cactus. In 2008 tough times arrived. My mistake was that I did not react to changes in business quickly enough. Our company was a family-like business, all the team was like a family. We thought that changes were not permanent. And we didn't consider workforce reduction as a must-to-do solution. But that disadvantageous and unpopular measure was really the only way out of difficult situation. Changes should be made, though it is difficult sometimes. Be brave to make changes."
Mistake 3.
All big and small companies started their activities with hiring people. Especially if you are a company that deals with freelancers (like Shopping Cart Elite, for instance – it is a company that hires independent contractors). So, if you see that a person you have hired is a weak employee, get rid of him earlier than he or she will show poor results in a very important deal. Loyalty is a good trait of character, but it may have a bad result on your profit. As soon as signs of a weak person appear, and he is not eager to learn and improve, the employee becomes insecure for a company and not productive for a team. Let them go. Make your team A-Team with the people involved, committed and striving to success. Hire slowly but fire quickly. This lesson must be learned!